Save The Children
Save the Children is a charity which aims to stimulate breakthroughs in the way the world treats children to ensure that they get a better future. Assent are taking part in the Save the Children's Christmas Jumper Day on the 15th December, and the good news is, you can take part too by joining #TEAMASSENT.
Christmas Jumper Day – 15th December 2017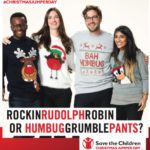 We're going to be wearing our Christmas jumpers from 11th December- 15th December to take part in the charity event. To raise money, you can text TEAMASSENT to 70050 to donate £5 to Save the Children any time from now.
Your donations will be put towards healthcare, education, protection and food to millions of innocent children around the world who lack these basic survival requirements. One donation could give a child a warm hat and blanket, or could protect a child against deadly diseases such as malaria and diarrhoea.
Share your Pictures
Show us your Christmas jumpers and how you've helped us raise money that week by tweeting us on twitter @assent1 and using the hashtags #Christmasjumperday and #TEAMASSENT.