ISO Certification for Tendering
Additionally, ISO Certification can provide a competitive advantage during the tender process, with many procurement departments taking ISO certification in to consideration at the early stages of a tender.

In some cases, certification can exempt organisations from answering entire parts of a pre-qualification questionnaire, which speeds up the response process
The ISO Certification Process
The diagram (right) shows the typical ISO certification process.
Certification is achieved after the stage 2 visit and your certificate will be available a short time after the audit.

For the stage 2 visit there needs to be at least three months of records to show that the management system has been successfully operating in the organisation.

Certificates are valid for three years, at which time a recertification audit is required.

During the three years, shorter surveillance audits are undertaken periodically to sample different areas of the management system.

The certification body will plan all the visits for the three year cycle during the Stage 2 audit. So you will know which dates they are coming and roughly what areas they will be auditing.

Assent Risk Management can provide support through the whole ISO certification process.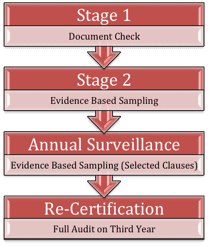 Why Choose a UKAS Certification Body?
We recommend you use a UKAS accredited certification body.

"UKAS is the only accreditation body recognised by government to assess certification bodies against internationally recognised standards that assure the certification body is fit for purpose. UKAS combines technical knowledge and expertise with commercial impartiality and a requirement to serve the public interest first."

UKAS Accredited Certification Bodies are governed by UKAS, listed on their website and can use the Royal Crown Mark (Crown and Tick).

"UKAS accredited CBs are required to meet internationally agreed criteria (such as ISO Guide 62) and are, therefore, not allowed to offer consultancy, assessment and certification as a "one-stop shop" package. They are also required to carry out a contract review with their potential clients to ensure that they are able to supply the certification that is required by them."
More on ISO Certification
Read our ISO Certification – Frequently Asked Questions Page.