Business Process Consultants
As an organisation grows it can be difficult for one person to keep track of every activity, and inefficiencies and process breakdowns can easily occur. Process mapping can provide a valuable tool to help you understand your organisation and identify areas of improvement.
Business Process Consultants Assent can help you 'see the wood for the trees' by observing the processes of your organisation across different departments and documenting them on easy to follow flow charts. We can then work with you to audit these processes to find out how effective they are at delivering the intended benefit for your organisation.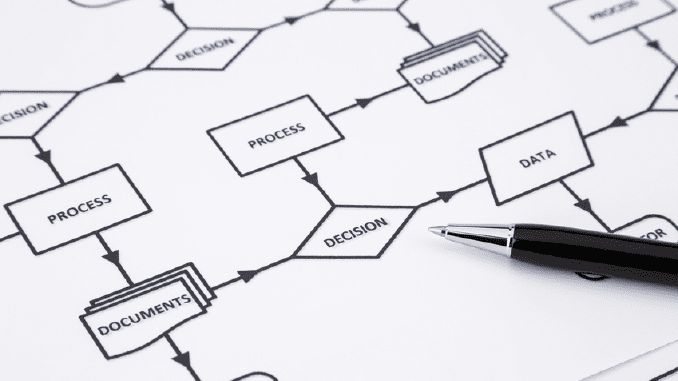 Process Auditing & Improvement
It can be hard to justify the time to audit and document processes that are already occurring in the organisation, but without that baseline it can be extremely difficult to drive improvements. There's also the added benefit of producing an 'instruction set' for staff and other stakeholders to use, reducing the time it takes the to get 'up-to-speed' with how the organisation operates.
Assent can help by working with each area of your organisation to understand, document and improve their processes.
A short process mapping project could have huge benefits for your future growth.
Interactive Cloud Based Process Maps
We use online tools to collaborate with you to document clear process maps which can be cross-referenced and inter-linked.
Using an online tool, process maps can be easily updated and shared across your team, so the people who need them have them.
Applying a Lean Methodology
Process maps are also a great tool to support a lean methodology in your business. Lean focuses on efficiency by cutting waste, among other activities. Assent has lean consultants who help organisations by providing training and consultancy tailored to their organisations. Contact us for more information on the Lean Methodology.
Process Maps & ISO 9001
Assent has a long established record of delivering ISO 9001 Quality Management Systems for clients, and process mapping is a huge part of that process, as it enables predictable and repeatable results to be achieved.
While there are other requirements within a Quality Management System, process mapping puts you closer to achieving ISO 9001 Certification. Contact Us for more information.
Identifying Risk in Processes
As a risk management and resilience company we are focused on helping organisations reduce risk, and this can easily be applied during process mapping where employee, Safety, security and supply chain risks, among others, may exist.
Take the First Step in Process Mapping your Organisation
Talk to us today to discuss the scope of your process mapping project and find out how Assent can help.
News
Keep up-to-date with news from across our services and brands.