ISO Consultants
At Assent, we see ISO consultancy as a partnership between consultant and client, with the mutual objective of improving your organisation.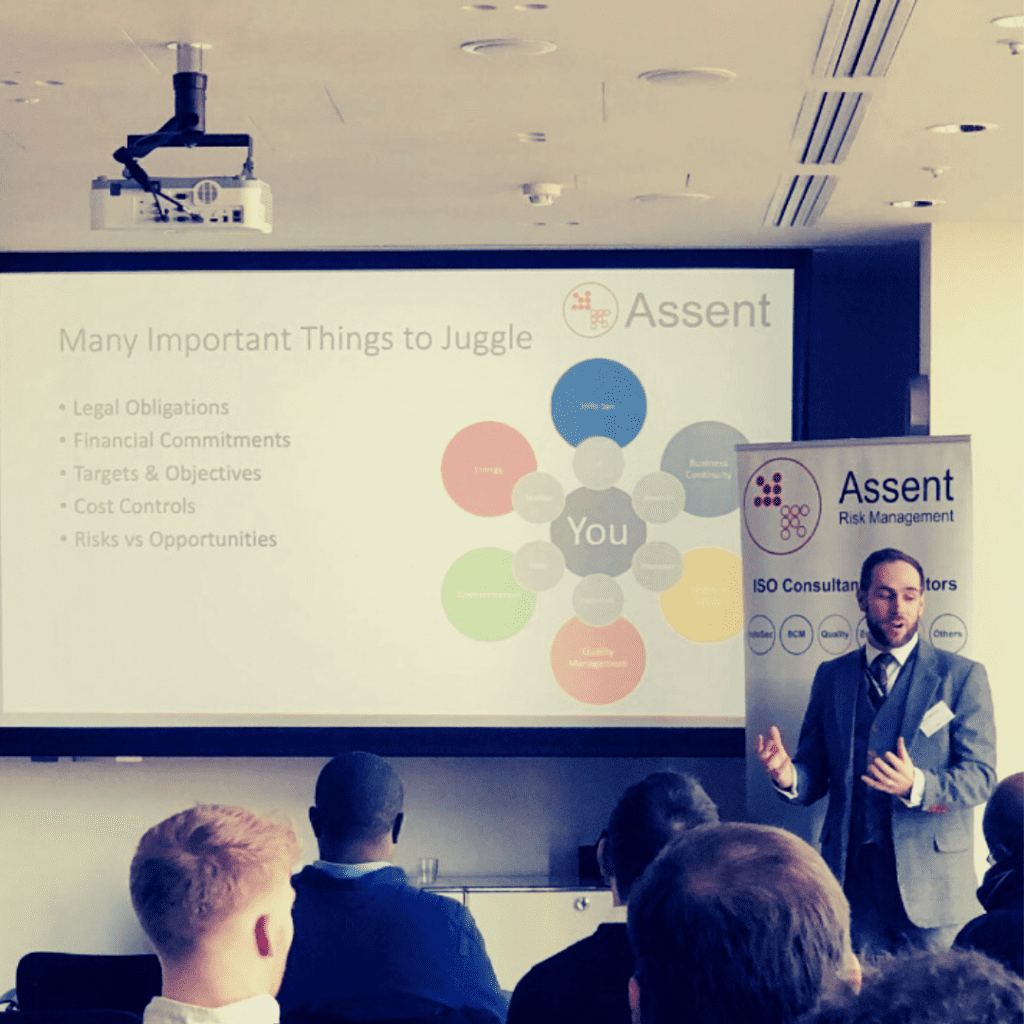 5 Steps to ISO Consultancy with Assent
Assent has an experienced team of consultants and support staff who can help you with a variety of ISO Standards and other Risk Management activities.

If you intend to implement an ISO Standard and achieve certification read our ISO Implementation Page for details on how we manage an ISO project.

To ensure a successful outcome from every consultancy engagement we follow a five stage process:
01
Determining the Scope of Work
We'll work with you to understand what you want to achieve and determine the scope of work.

This can involve emails, telephone calls or video-conferencing with different members of our team and yours, depending on the complexity of the engagement.

We'll define a set of high-level deliverables which will be priced in a proposal document, and carried through-out our work with you.
02
Team Selection & Planning
Once the deliverables have been agreed and a contract signed, we'll select the right consultant or consultancy team for you.

We base the selection on the consultant's knowledge, industry experience and location.

Then we spend time planning the consultancy engagement at an appropriate level, using our Project Management Tools where required.
03
Starting Work
Our office team will make sure you have access to any resources that might be required to complete the work, including our Project Management tool, Service Desk or File Sharing.

If you use Office 365 or GSuite we can collaborate through your existing accounts. Find out more.

For larger works we'll organise a 'kick-off' meeting with everyone involved in the work. This facilitates the introduction of team members and confirmation of the statement of work.
Shorter engagements may begin immediately when the consultant attends site.
04
Work Packages & Documentation
Each working session will be focused on a particular activity, and our consultants will work with you to meet all the deliverables defined in the original statement of work.

The time scales of this depends on the size and complexity of the work.
After each working session we'll provide visit notes and other documentation ensuring everyone is kept up-to-date with progress.

This allows you to progress aspects of the work between consultancy visits and provides continuity in the event that the consultancy team needs to change for any reason.
05
Successful Outcomes
At the end of the consultancy work we'll review the deliverables with you to make sure a successful outcome has been achieved.
Choose An ISO Standard to get Started
Examples of ISO Consultancy Work
Short Engagements
Short consultancy engagements are often needed to resolve a particular problem such as:

– Resolving a Non-Conformance from an ISO Audit.
– Providing Knowledge Transfer to a new Staff Member.
– Responding to a Tender Document.
– Providing Short-Term Cover.
Remote Consultancy
Although it is not our recommended approach, some engagements can be completed remotely, for example:

– Documentation Review and Update,
– Audit Report Reviews,
– Project Planning

Specialist Knowledge Transfer
A key reason our clients work with us is to expand their capabilities and knowledge. Our consultancy team work in a style that's conducive to knowledge transfer, helping you understand why and how things are done.

We also have a comprehensive range of Online Training and Classroom Training to support your organisation.
Larger Consultancy Engagements
Some engagements are more complex than others and can involve a team of our consultants over a number of days and months, for example:

– Bringing a new branch/location in to the scope of your management system.
– Implementing a risk management framework.
– Evaluating your Supply Chain and Supplier Audits.
– Other Due Diligence.