As part of Assent's mission to champion the consultancy industry, Jess from Assent Risk Management has been interviewing experts from all sectors of the consulting profession. In this interview, Jess talks with Donna Clements, Head of Talent at Assent Risk Management about 'How to choose a good ISO consultant'.
What is your role at Assent?
As Head of Talent, my main responsibilities at Assent are to source good and competent people to deliver a top service for our clients. So I'll support our consultants through from the initial sign-up process with Assent to the delivery of the actual client work and make sure that they've got everything that they need to do a good job.
What is the role of an ISO consultant?
As part of the role of the ISO consultants, they go in and they will deliver the piece of work that our client has signed up for. This can be anything from implementing one of the standards or sometimes multiple standards across the company. They'll work with them to produce all the processes that are needed to meet that certification.
Consultants may also carry out internal audits and produce the reports that are required by the certification body. They also, depending on whether the client wants that support or not, they will attend the actual certification audits as well and offer support to the client there. All of this can be done remotely or on-site.
So, in summary, really, our consultant's main focus is to help our clients to maintain and achieve their ISO certification.
What qualities do good consultants have?
Consultants need to have lots of qualities as they're working with lots of different types of companies across varying sectors. So they need to really be able to adapt well to the company's culture, to really go in and get a feel of what the company is all about and how they best work.
They're dealing with lots of different types of people, lots of different personalities, so they definitely need to be able to adapt and have good people skills. The main thing is that our clients feel comfortable with the person going in, so that's absolutely a top priority.
Consultants also need to be fairly flexible in their approach to ISO implementation. They should consider the company or the business and the way that they work and adapt how they work with them. It's important that they meet the individual client's needs.
Also, consultants need to be very organised as a person as well because they're going into companies that have got lots of different departments across the company, so they need to be able to hold all of what's going on in different areas of the company and navigate that.
They're sometimes putting a system in from scratch, so consultants really need to be able to stick to a reasonable time frame and the schedule they set out at the beginning of the implementation.
Consultants also need to be able to produce some useful visit notes for our clients against each of the days that they complete with them and also internal audit reports which we like to send out to the clients quite quickly once the day has been completed. So, again, that takes quite a level of organisation to be able to do that.
Finally, they need to be friendly, supportive and be an adapter to the client's needs. Our clients need to feel that they've got an ally in the consultant going in, the consultant is there to take the stress and the worry of the ISO certification out that can bring. The consultants do need to be quite friendly and support clients where their needs are.
What advice would you give someone who is wanting to start in consultancy?
The best consultants that we have have already worked with ISO. They've either been in a company that has got a certification, so they've got a basic or quite a good understanding of how ISO works. Usually, that's a good place to start for a consultant. It means that they've got that understanding to carry forward.
Also, a consultant would need to have a good understanding of business and how basic business operates. So if you've got some of that or all of that experience, then get training, make sure that you're using an IRCA-accredited training provider, an IRCA-approved course, and then observe some audits. So, before going in and completing an audit yourself, I think it's important to observe some of those audits that are being done and maybe some of the consultancy as well, just to get a really good idea of how a good consultant works.
What competency qualifications are there for consultants?
There are a lot of certification bodies that deliver training and I would always look to make sure that it's IRCA accredited. For our consultants, we tend to make sure that they have at least one lead auditor qualification in one of the standards.
But we do recognise that there are some specialist standards out there that don't have a clear training programme that you can go on to get the qualification for that specifically. So in that respect, we'd look at industry experience, peer review and review reports that they've done. We'd monitor that in the back office, we'd make sure that they've got a lead auditor certificate in something, that's very important and then kind of look at their experience and what they've done and what they're doing on the back of that, which helps us to maintain a good level of competence.
What should you consider when choosing an ISO consultant?
Experience is probably one of the biggest things, looking at whether they've dealt with ISO within a company before, their experience as an auditor, as a consultant, and the types of clients they've dealt with.
Asking for references is also quite important as well. Don't be shy to ask your consultant for some references, some feedback, and ask for their qualifications. Again, looking for an IRCA-accredited qualification.
Another point to consider as well, when you're looking for a consultant is to check that they've got a staffed back office because more often than not, consultants are booked out Monday to Friday. And when questions come up, or you're a bit worried about something, or you can't find something, it's quite useful to have someone that you can go to when the consultant is busy. So if they've got a staffed back office, there'd be someone that can answer your queries and help you find bits and pieces between your client days.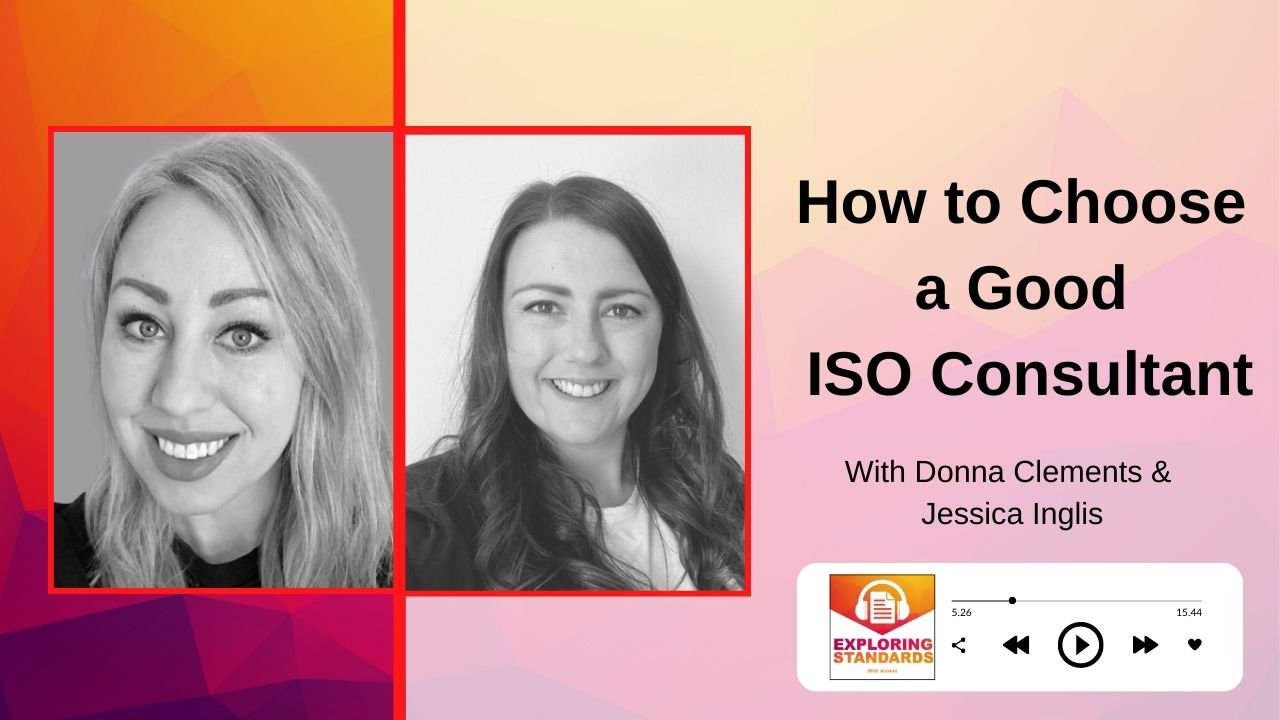 Watch on Youtube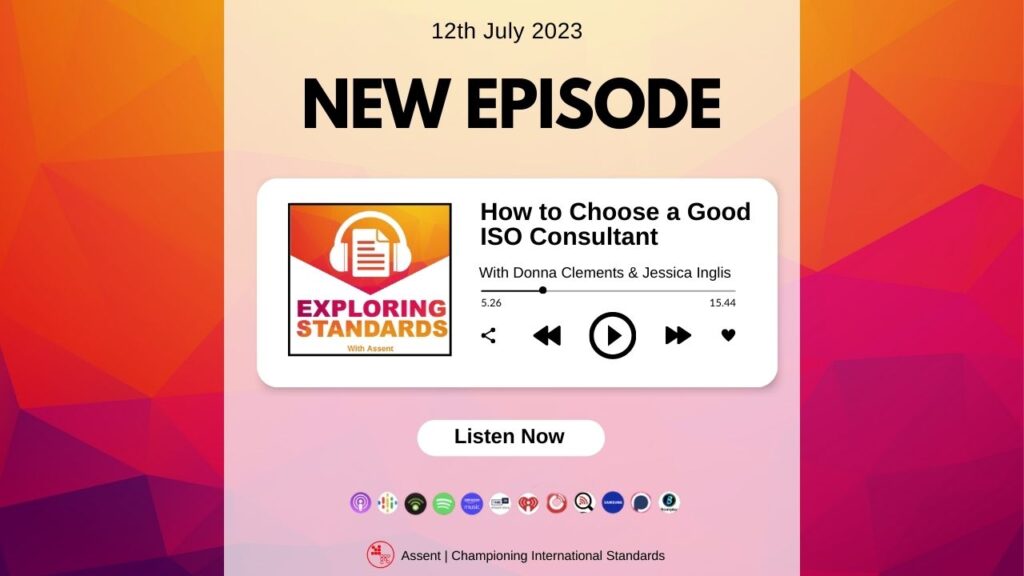 Listen to the Podcast