Our ISO 45001 Consultants in Hove, East Sussex can help you manage Occupational Health & Safety Risks through a formal management system and demonstrate it with ISO 45001 Certification.
What is ISO 45001?
ISO 45001 is the internationally recognised standard for an Occupational Health and Safety Management System.
Key Themes of Occupational Health & Safety Management
Hazard Identification, Risk Assessment & Control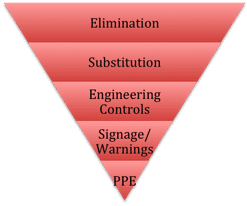 The standard sets out basic requirements for meeting your legal obligation to identify, assess and manage risks to health & safety.
It includes the principle of the hierarchy of controls which requires you to attempt to eliminate the risk first and use PPE only as a last means to treat the residual risk.
Legal and Other requirements
As in some other standards, ISO 45001 asks you to establish a procedure to identify and manage the legal and other requirements that are applicable to the organisation.
Our legal compliance audit and risk briefing information service can help you manage this area of the standard.
Participation and Consultation
Health & Safety is a culture that people at every level of the organisation need to buy in to.  The standard requires methods of participation and consultation to ensure that the risks from all parts of the organisation are controlled.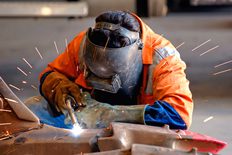 This might include Health & Safety Committee meetings as required by the Safety Representatives and Safety Committees Regulations 1977 (as amended); and the Health and Safety (Consultation with Employees) Regulations 1996 (as amended).
Incident & Accident Investigation
Many organisations are aware of the need for an accident book, but the standard requires you to consider a formal process for investigating and managing incidents including learning lessons from occurrences.
Externally Accredited
Having your Occupational Health and Safety Management System externally certified by an external UKAS accredited assessment body demonstrates your commitment to health & safety and can give you a significant advantage when tendering for contracts.
More importantly, it provides a 'fresh pair of eyes' to help drive the improvement process and ultimately reduce risks to employees and the public.
We will help you choose a certification body and guide you through the process. Find out more About the ISO 45001 Certification Process.
ISO 45001 Consultants in Hove, East Sussex
Assent Risk Management has ISO 45001 consultants in Hove who can help you implement an Occupational Health & Safety Management System and achieve certification.
Support
We will work with you to build a system that meets the needs of your organisation, protects your stakeholders and demonstrates legal compliance.
It's Not All Paper Work
We are experienced in implementing ISO 45001 Management Systems and can keep the paperwork to a minimum, ensuring you get maximum benefit from the standard.
See Also