A Growing Team
In 2018 the Assent team grew, welcoming a new I.T. Apprentice and several new consultants who each bring a wealth of knowledge and experience.
And although the whole Assent team is dedicated to providing the best service for our clients, it's the consultants who are the face of our company.
Consultants interact with clients the most and build an important relationship based on Trust, Communication and Knowledge.
We are continually looking to improve the quality of service that our clients receive – this means supporting our consultants.
This year we included our Consultants in our annual 'Journey Feedback Survey'.  While client feedback is vitally important to make sure we are on track and delivering our core principles (P.R.I.D.E),
our Consultant experience should never be overlooked.
We strive for a service that offers our Consultants full support from the background that allows them to fully focus on the deliverables of the project.
Here is some of the feedback that was given by our Consultants;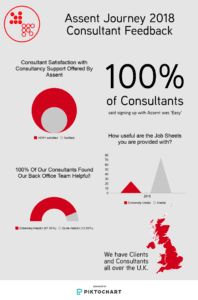 Want to Join Our Team?
Contact us – we would be happy to hear from you!